Ref:
Date:
Location:
Photographer:
[clikcontent type=paymentBuyLink replaceable=true]
Ref:
Date:
Location:
Photographer:
[clikcontent type=paymentBuyLink replaceable=true]
USA STORM CHASE 2012
JUNE 2 2012
We had hoped that we would be able to chase the slight risk area today, but it was too far out of our reach in eastern Colorado, and didn't have any great potential anyway.
We decided to head to Piedmont OK, the place where we had witnessed the great storm setup a few days earlier, in order to attend the annual Chaser BBQ to meet up with our storm chasing friends..
We then headed back to our home base in Norman to prepare for our flight home tomorrow.
It has been a great 2 weeks chasing this year, with great friends again. I cannot wait to be back next season.
JUNE 1 2012
There was a slight risk of storms today over the Texas Panhandle region and we were right in the bulls eye in Amarillo according to the SPC forecast.
We felt however that there was better moisture and backing winds further to our north where we waited for the storms to fire in the Gruver area.
A few cells fired but were struggling to get organised. One storm began to look better briefly, and we pulled over to observe it, but it began to die very quickly.
We weren't expecting a chase today, so something was better than nothing.
We decided to head to Elk City, OK for the night and were treated to a beautiful mammatus display at sunset.
MAY 31 2012
Unfortunately there were no severe storms forecast today, so we decided to take in the local sights by heading to the Palo Duro Canyon just outside Amarillo, Texas.
The canyon is the second biggest in the USA behind the Grand Canyon obviously and we had a great time hiking up to the cave, photographing around the canyon edge and driving to one of the water crossings at the bottom to set up some Go Pro cameras in the water whilst diving through the water with our vehicles. It made for great video!.
Before we went there we visited the Coyote Bluff restaurant in Amarillo to try one of there signature burgers. The place is just a shack from the outside but the burgers are amazing!. This place was featured in the series Man vs Food.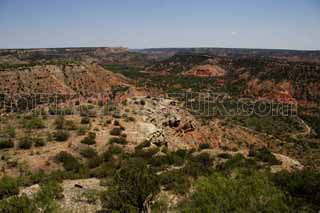 MAY 30 2012
Well after yesterdays incredible show of weather, the potential for today was supposed to be even better, and the SPC backed that up by issuing a moderate risk with a 10% chance of a tornado within 25 miles of any given point....well how wrong were they as the day turned into a complete bust.
We headed north initially to Woodward OK, and waited for the storms to initiate. Two severe warned storms fired way to our north and one to our far south in Texas which were really out of reach. We eventually decided to head south into Texas but the air lacked moisture and storms were struggling to form.
One storm began to grow with a nice inflow, but weakened and died quickly, and that was that.
We decided to head to Amarillo, and the Big Texan for the night. On the way I managed to shoot a nice sunset.
Tomorrow looks like a rare down day. In a way we are glad it has been a busy chase so far.
MAY 29 2012
What an amazing chase day!. We headed up from Texas to intercept the storms in Western Oklahoma. Our initial chase area was in the vicinity of Alva and we watched a storm fire up there before deciding to intercept the storms to the south which were getting more organised.
The storm became severe warned and began to produce huge baseball sized hail, which was landing all around us smashing on the road. We managed to avoid most of it by skirting around the edge of the storm away from the core.
We would not be able to avoid it for long though so we took evasive action and sheltered in a Sonic fast food outlet in Piedmont before the core hit us. Had we stayed unprotected from hail this size we would have lost a lot of glass
The sound of these stones hitting was incredible as we and many locals cowered under the small awning that protected us. The sound was only disturbed by the sound of the tornado sirens wailing as a rain wrapped tornado touched down to our west.
When the worst was over we headed south to OKC where we intercepted a storm that produce a nice lightning show, before heading to our chase base in Norman for the night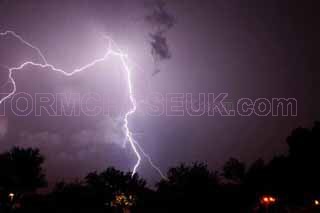 MAY 28 2012
The overnight pattern had shifted so we had to hit the road early, as today was going to be a long haul to get south from Des Moynes, Iowa to Texas to get into position for today's storms.
We managed to make it before the storms started to initiate around the Vernon area.
We observed the main cell become organised and turn into a mature supercell with a hook echo. We kept pace with it as it became very photogenic before we eventually got blasted by the gust front and began to die.
We then headed into Seymour where we took shelter under a metal awning and waited for the core of the storm to hit us. It did and was awesome as hail the size of golf balls rained down over us for a good 10 mins, the metal roofing was really enhancing the sound of the hail.
We then headed to Wichita Falls for the night visiting the Olive Garden to meet up with fellow chasers. Whilst there, we were treated to a beautiful mammatus display at sunset and a double rainbow. Tomorrow looks to have more great potential.
MAY 27 2012
Just when I thought chasing couldn't get any more frustrating it did!.
Storms fired up in Nebraska but the line of cells again became very linear and disorganised both on radar and visually. The one difference today was that they were moving so fast so although we got into a great intercept position for the first storm, once it had passed we had no chance of catching it.
We witnessed a few Gustnadoes and drove through the small hail core, but feeling that the set up ws against us we then called off the chase for the day.
Tomorrow looks much better potential wise but it is all the way down in Oklahoma/Texas. We have to put in some driving tonight and leave early tomorrow morning to get into position.
We are planning to make it to Hays, KS tonight.
MAY 26 2012
Today was a day when the strong capping inversion was to win out. This means that the lid that is between the warm moist air rising cannot hit the cold air aloft thus meaning storms will not initiate
We had a slight risk for severe weather in Nebraska around the O'Neill area.
We got on the first cell to fire up, and we were hoping that it would intensify as it reached the better moisture further north. Unfortunately it just became really disorganised and died pretty quickly.
Still we were on the only storm around, so we didn't miss anything at least. It was a frustrating day for many chasers out there today.
We managed to witness a nice sunset at a wind farm on our way to Sioux City, Iowa for the night.
MAY 25 2012
There was chase potential today SW of our location in Kansas, but it was a long way from our location and impossible to reach in time before initiation.
We decided to head back to South Dakota/Nebraska area to put ourselves into position for the chase potential tomorrow.
Along the way we decided to visit the SPAM museum in Jackson Minnesota, A great place for all Monty Python fans....BUT I DON'T LIKE SPAM!!!!!!
MAY 24 2012
The SPC issued a moderate risk all the way in Wisconsin, It would be a long haul to reach our target area before initiation but we felt the opportunity was too good to miss out on.
We hit the road earlier than we had anticipated and headed NE through Iowa to reach the storms close to the Minnesota/Wisconsin border.
Our main problem was that the storms were moving SO fast at around 50mph as the line of cells raced Northeast. By early afternoon a tornado watch was issued and we managed to get ahead of the first cell to intercept it and got into the core of small hail, but it blew past us really quickly. We then attempted to intercept the second but the cells became very linear which significantly reduced the tornado potential. Once that cell was past us the rest just turned into a disorganised mess.
We decided to call off the chase just over the Wisconsin border at La Crosse. At least Wisconsin is another new state for us.
MAY 23 2012
There was a slight risk for severe weather within a 5% tornado risk in SE Nebraska, so we headed north to intercept the cells that fired up there.
A few cells formed ahead of the cold front, but they all became very linear as they were all undercut by the cold air inhibiting their development, and very soon they all turned into a weak disorganised mess.
A lone cell fired up to the south which quickly, although briefly became tornado warned. We saw a weak ragged wall cloud, and a couple of Gustnadoes before intercepting the core of the storm of small hard hail in the town of Wahoo.
We have now booked up in Omaha NE for the night.
MAY 22 2012
Today was a relocation day, so we put in 7 hours of driving to get up from New Mexico to Hays, Kansas to put ourselves into good position for the chase tomorrow in SE Nebraska probably.
We arrived in Hays pretty late and decided to head to the local Whiskey Creek for the customary steak and monkey nut fight!
MAY 21 2012
Today was a day where we really were not expecting a lot of chase potential, however storms were to fire up pretty close to our location in Tsucamcari, New Mexico.
A cluster of storms fired which had no great potential for producing tornadoes, but were very consistent lightning producers. After a few relocations to get ahead of the storms we pulled off the highway and set up to photograph the display.
Tomorrow will definitely be a relocation day to get up to Nebraska for the followings day's storm potential.
MAY 20 2012
The storms from last night continued to rumble through OKC, but today was a day when we were not there to storm chase...we were there to eclipse chase we headed SW through Texas and into New Mexico in the hope of witnessing the Annular Solar Eclipse, as mainland USA was the only location where we could see this rare phenomenon..
There was a lot of cloud throughout the day and we were starting to get slightly concerned as to whether or not the skies would clear for the start of the Eclipse at around 18.30.
We continued west to the town of Melrose where we reached the end of the cue field and to clear skies and waited for the show to begin, and boy what a show, it was spectacular. We witnessed the entire eclipse until sunset at 20.30.
Tomorrow will most likely be a travel day to head to our chase target in Nebraska.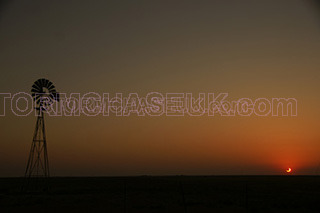 MAY 19 2012
This was a slightly different start to our chase season, as I had spent a week to B.C. Canada with a couple of chase friends before heading to the Plains.
We finally made it to Oklahoma and I met up with Ian about 21.30 after our flight up from Houston was delayed due to localised storms, which continued throughout the night in Norman and allowing me very little much needed sleep as I constantly tried to document it!. You can't let a good storm pass without enjoying it's glory!.
Anyway we will be heading south tomorrow to try to witness the Annular Solar Eclipse, the only evening on the chase trip where we are hoping for clear skies. and funnily enough NO STORMS!.